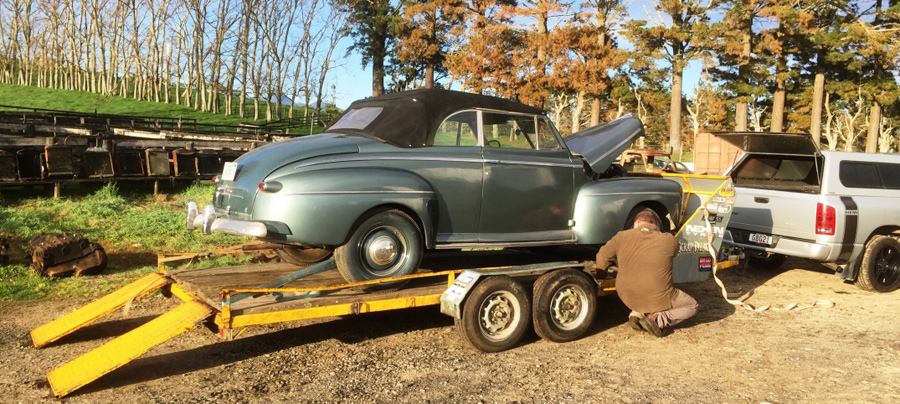 Winter is supposed to be the quiet time for owners of old cars, with the inclement weather keeping the cars indoors which in turn makes it a busy time for us. With the cold and wet weather many of you folk are obviously using the shed time to get on top of maintenance or possibly carry out a few upgrades ready for the coming summer which is now only three months away. As we said in the last newsletter things haven't been slowing down for us thanks to your continued support, and that's just the way we like it. The car guys and gals at Ajay's helping all you other car guys and gals keep your old cars in top condition.
Last month we made the annual pilgrimage down to the Palmerston North swap meet and had a great time as usual catching up with a lot of your familiar faces as well as meeting a few new too. This is always a good event for us and well worth the trip down with the heavily loaded trailer, thankfully it is always lighter on the return trip.
Having a good sample of what we stock on hand gives new customers and understanding of what we can supply and we always come away with a book full of orders. While we do sell quite a bit of car stock at events like this the T-shirts, flags, Mexican blankets, ponchos and like and are also big movers and the die cast models and Hot Wheels are always popular too.
Shortly after getting home from Palmie the first container arrived in NZ from Brian and Simons trip to the USA with Brian collecting the first of the goodies a week or so later. To say there was a bit of excitement would be an understatement!
There were boxes everywhere around the C10 on the car trailer with its tray, the back of the Dodge Ram and every spare bit of space under the C10 also covered with boxes of parts, models, toys and memorabilia. In total fifty four boxes which we then had to open and sort which made the next couple of days just like Christmas. Discarded paper and packaging was strewn around the shop while we inspected and played with the toys, model cars, sprint car, pedal cars and everything else. Seeing us middle-aged men acting like kids was certainly a sight to behold and even a couple of the shop dogs got into the act!
The toys and models were a big distraction for us with Brian securing a collection of vintage speedway die cast models. These are quite difficult to find and are commanding serious money on eBay so to have twenty five of these arrive was pretty exciting. Many of these die casts were actually sold with age restrictions so they didn't end up in the hands of unappreciative kids, as these are not toys. They are accurate reproductions of the original cars and the detail has to be seen to be believed. On some of them the knocks come off so the wheel can be removed, how that for detail! We still have some of these available so give us a call or PM us on Facebook to see what is left.
Also in the container was Brian's 46 Ford Convertible which was going to be his forever car having recently sold the family Mercury. Such is the demand for these that as soon as people became aware it was on its way Brian was being asked "how much". The decision was made that if the price was right it could go, if not he would keep it, so a fair price was thrown out there as you would have seen last month's newsletter. It proved too attractive for a South Island gentleman and as soon as the coupe was cleared and arrived in Waihi Brian was loading it up for delivery to the happy new owner.
While Brian was away down south the usual chaos continued back at base with the orders coming in by phone and email. Having half the management and his sidekick (dropkick?) mate Simon with him just meant those of us remaining have to work that bit harder. The boys had no sooner departed south when more shipments from the states started arriving. With a whole lot of back order stock now back in production and suddenly becoming available our suppliers were keen to move it on to us. Unfortunately when some stock was unavailable from supplier A we tried supplier B, who also couldn't supply and now with the part back in production they both supplied the order! We guess the upside is we now have plenty of stock that was previously hard to find in the US let alone here. Not everything on back order has been supplied yet but our stock levels are looking healthy and we now have over 5000 different items on the shelf to help keep those early Fords running. We also carry a big range of hop up gear, intakes carbs, linkages, electronic distributers etc. as well as a range of memorabilia, tin signs, model and other essential man cave items too, call or PM us on Facebook for prices.
While we also stock some parts for other brands it is the early Fords that are our core business and we are always looking for new products and accessories to fulfil our customer requirements. As part of our ever growing range we now stock a pretty good selection of white wall tyres which are often the perfect finishing touch on older cars. While we obviously can't carry every size we have a lot of the popular sizes in stock including some radials that look like crossplies such as the 6.00 x 16's with a 3" wide white wall for just $2200 for a set of four. Looking like a period correct crossply these have the look but handle like a radial giving you the best of both worlds! We also carry wider tyres for the later cars and a mix of big and little's in 15" and 16" sizes for those looking for more of a hot rod look. If we don't have the size you want we can always order them in as part of our next shipment.
Speaking of shipments, we have another container arriving in September from Brian and Simon's last buying trip and another due to leave with the last of the stock they purchased. To keep the product flowing the next trip stateside has already been booked and at the end of the month Brian is off again for another four week buying trip. The first few cars have already been earmarked for purchase, so watch this space for details as a couple of them are pretty special! If you need anything sourced from parts to cars please get in touch now. Whether you want a car that is complete and ready to go or your next projects vehicle now is the time to let us know.
While Brian is away we will still be open as usual from 8:30 to 5 Monday to Friday at 149 Hollis Rd just outside Waihi if you want to call in or you can call us on 07 212 8742. Copies of our catalogue can be downloaded from our webpage (new link to go here)and of course we are always contactable via Facebook.