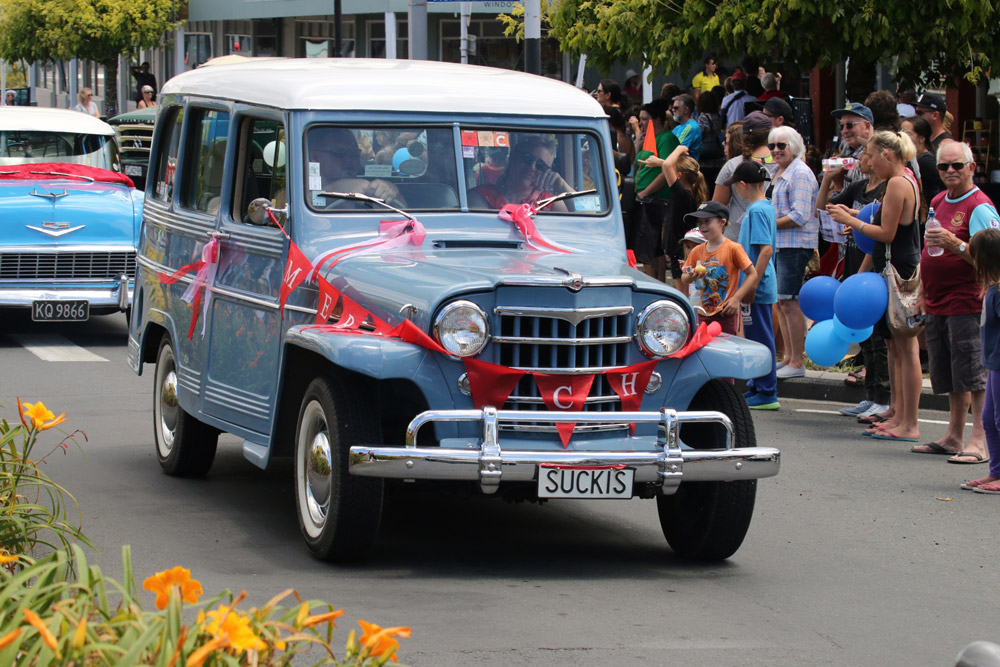 2017 has been so frantic it only seems like yesterday that we were getting ready for Kumeu, Muscle Car Madness and the Beach Hop and now just a couple of weeks out from Xmas it's time to try and re-energise to do it all again. It has been a very busy time here with structure changes during the year as we move more into the electronic age with more focus on online sales with Trade Me stores and a whole new website (this one) which was launched at the start of December. We have also had a bit of a staff shuffle around during the year which hopefully improved the customer experience and makes us more efficient too, we guess only time (and customer feedback) will tell!
As you have probably noticed Ajay's is diversifying and growing our range of products and for some we are now the exclusive distributers in NZ. While we still continue to be NZ's largest supplier of early Ford parts we are now stocking much more memorabilia plus the ever popular pedal cars, wagons, trikes, die cast cars and the like. We are also carrying an increasing range of vintage speed equipment and hop up gear for the early Fords too which you may have seen popping up on our Facebook page from time to time. This diversification has made 2017 a tough year at times due to the growing pains that comes with change and of course the added stress that' comes with missing staff during their several trips to the states to find the stock.
It is important to realize that the type of gear we sell is not going to be on special at Repco or Supercheap and is probably not for sale anywhere else in NZ. We only have items like this in stock as the result of serious swap meet shopping in the USA which we bring in to give folk who can't make it to Hersey, Carlisle and the like the opportunity to buy the cool stuff from back in the day. We are a business and need to make a buck from doing this so need to recoup the huge amounts of money and time we have invested, so please don't be offended when we say no when you try and low ball us. We offer the best quality products we can at fair prices as it is this philosophy that has kept Ajay's around for over forty years.
Likewise with the cars that we import we may be a little negotiable on price BUT unlike many of the others Ajay's is a licenced motor vehicle dealer which has costs and obligations associated with it. Some cars are sold as "projects" and will need some work before being ready for compliance for use on the road, whereas others we will put through the process ourselves and will be sold registered with WOF etc. and ready to go. The prices of the cars will reflect rarity of the car and if road legal the investment of effort and parts required. Ajay's currently have around a dozen vehicles for sale from the 1920's through to the 1980's with a couple legal, a couple of them currently going through the compliance process and the rest being project cars.
Get your cars holiday ready
As we work through a busy December and look forward to the impending holiday season it is also time to start thinking about getting the cars ready for Xmas. In addition to getting a couple of the car we have imported ready for compliance we have also been working on our own cars and have a few thoughts and lessons learned we would share that may be of help to others out there. Firstly batteries do not like being left connected for long periods with the car not being used. After a few months of being parked up one of the cars had a dead battery which once charged appeared OK, but not for long and it soon died again. Thank goodness for the little jump pack! Lesson learnt and next year we will disconnect and trickle charge over winter or start and run the car regularly!
Another thing to check before getting out on the road for Xmas is all your fluids, not just the oil and water and if the car has been sitting for a while it pays do the same after a bit of use. Rubber seals/brake wheel cylinders are prone to fail at the most critical times and after a winter without use they love to start leaking just as the parts stores close for the holidays. We have most of the early Ford stuff covered as far as wheel cylinders, axle/gearbox seals and the likes go, along with a good range of thermostats, radiator caps, hoses, clamps, fan belts, water pumps and the like.
Please go out and check your cars sooner rather than later as Christmas is getting close and we will be closed for a couple of weeks. We close for courier deliveries on Wednesday 20th Dec and even then you could be lucky to get parts before Christmas as we already finding overnight means at least two days and four if there is a weekend involved! We will be in store for on the 21st for anyone wanting to come in to buy or have parts delivered in the New Year.
First Aid
Your own health and that of your families is also important so please make sure your first aid kits are in the car and fully stocked. Please also take time to download the CPR App and learn how to do CPR if you don't know how. Also find out where the defibrillators are where ever you live and are holidaying, there are maps on this webpage and App's you can download too.
Knowing how to do CPR where the nearest defibrillator is could help save a life as Tony Smith from St John tells us on this video. Immediate CPR and then the use of a defibrillator within the first 5 minutes more than doubles their survival chances, it's not hard so please take the time to watch! Share this information with your families too as the life they save may just be yours!
From the team at Ajay's please travel safe on the roads, have a great Christmas and New Year's break and if you are in Whangamata New Year's day call into the World's First Car Show and say hi!