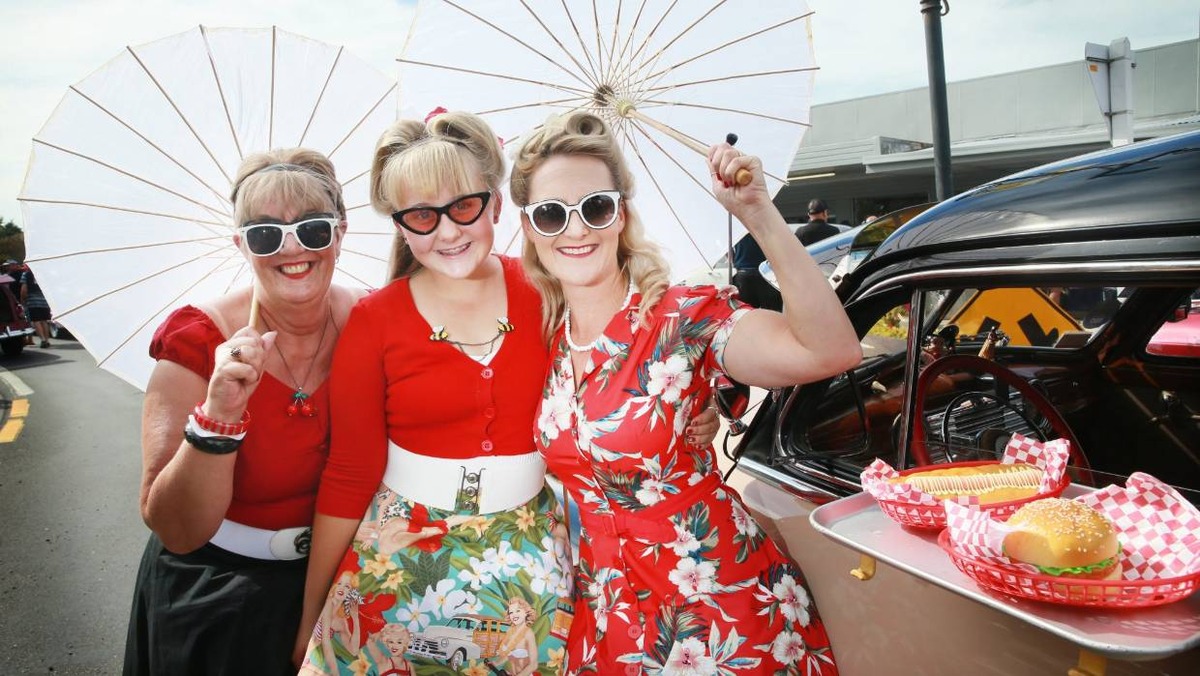 Americana heaven in Waihi as Beach Hop rolls into town
Matt Shand, Mar 27 2019
Thousands of participants and spectators with their classic vehicles and outfits will pour into the Coromandel for the annual Repco Beach Hop
Classic cars and vintage clothing are a way of life for the Tucker family, so the Beach Hop is their slice of heaven.
The family spends all year making sure their classic cars are spick and span and their hair and clothes suit the five-day festival around Hauraki which started in Waihi on Wednesday.
About 450 classic cars revved their way amidst beehive haircuts, pinup girl dresses and plenty of Betty Boop memorabilia.
More than 450 classic cars paraded down Waihi's Main Street for the Waihi Warm Up event.
Markus Tucker said after attending last year's Beach Hop he went straight home and set about purchasing a classic car so he could be part of this year's parade.
His 1948 Chevy Fleetmaster was decked out to resemble an American Drive-in diner regular and was filled with Americana and even a batch of moonshine his grandfather distilled.
Trish, Abbie and Rachael Tucker turned out in style to celebrate the Beach Hop Waihi Warm Up event.
"I just liked the event so much I ended up buying the car so I can join in," he said.
"It can be a challenge owning a classic car and you want to make sure you know somebody who can do work on it but it's enjoyable as well."
Abby Tucker, 14, was even given a leave of absence from school to take part in the Beach Hop and she dressed the part.
Betty Boop is a popular icon at the Beach Hop.
"The kids are getting more and more into it," Rachael Tucker said.
"We're just all into cars and the clothing."
The Tuckers were just one of thousands of families out enjoying the Waihi Warm Up event as part of the Beach Hop.
Thousands turned up to take part in the 19th Beach Hop event.
Organiser Noddy Watts said the event has grown over the last 19 years as more and more people embrace the culture.
He said stories like the Tucker family are common.
"A lot of people turn up to watch the parade and love it so much they want to take part," he said.
"There is something about the 50's and 60's that people really enjoy. It was a safe time in New Zealand but also a time of great change. Teenagers started rebelling, hotting up their cars, wearing different clothes but it was very safe at the same time."
Chairman for Go Waihi Kerry Single said the event does wonders for Waihi community and he hopes to carry on its 11-year legacy.
"The community really supports it," he said.
"A lot of us older types are out there reliving our youth a bit.
"Most of us come from the era of Rock 'n' Roll, free love and all that.
"Some of us are probably only here because of that attitude."
The Beach Hop continues across the Coromandel over the next four days. See beachhop.co.nz for more information.
Click photo to enlarge: